Page Visited: 278
Read Time:
2 Minute, 7 Second
By Vivian Wagner
Beena Ammanath is vice president for data and analytics at GE Digital.
She has worked in the data analytics field for more than 20 years and serves as board director at ChickTech, a nonprofit dedicated to recruiting girls and women into the tech workforce and retaining them once they're there.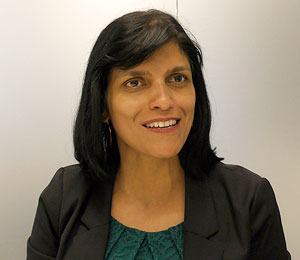 GE Digital VP Beena Ammanath
Ammanath also serves on the Cal Poly Computer Engineering ProgramIndustrial Advisory Board, helping to shape the future generation of computer scientists with her expertise. She recently was named one of the top female analytics experts in the Fortune 500 by Forbes contributorMeta S. Brown.
In this exclusive interview, Ammanath speaks to TechNewsWorld about AI, analytics, and diversity in tech.
You are one of the thought leaders on artificial intelligence. How do you think AI will impact businesses and jobs?
Beena Ammanath: I have worked in a number of industries — e-commerce, financial, marketing, telecom, retail, software products and industrial — over the past two decades. I have seen how the growth of data from OLTP systems to data warehouses to big data and data science has impacted businesses.
I believe we are just at the tip of the iceberg with AI today. AI is not by itself an industry — more of a technology that is positioned to transform businesses across a number of sectors. AI will be so intertwined and pervasive within business operations in the future that it may be impossible to do business without AI. Fundamental business models of today are going to change, as AI evolves.
The Palm Jumeirah Monorail in Dubai is a fully automatic driverless train that can shuttle up to 6,000 passengers an hour. The locomotive industry is poised for a revolution — not only passenger trains, but also long-haul goods transportation.
Tesla's driverless car is still in its early AI stage, but it won't be that long before drivers put their cars completely on autopilot. In a few years from now, Uber may not need drivers; just idle cars will be needed. But even more broadly, the whole transportation ecosystem is going to change.
There will be an impact on jobs, but I see it more as job roles changing and not necessarily as job reduction. The jobs most at risk are those that are routine-intensive and are strictly defined with limited tasks. If you think of the transportation example, in a few years we may not need as many drivers, but we will need more programmers and support personnel.